Advertisement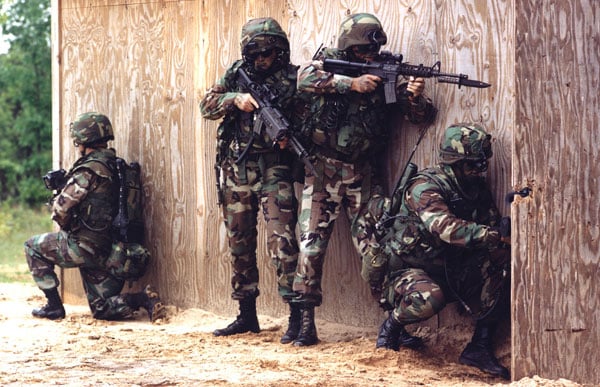 ISLAMABAD: The US-Pakistan relationship may be at a nadir, but there's plenty of room for it to hit rock bottom.
A media report from Washington suggests that the Obama administration may be considering a plan to carry out a secret joint operation with Afghan forces against the Haqqani network inside Pakistani territory.
US officials are so frustrated with Pakistan's failure to stop militant groups from attacking Americans in Afghanistan that they have considered launching raids into Pakistan to hunt them down, officials told The Associated Press.
But the idea, which US officials say comes up every couple of months, has been consistently rejected because the White House believes the chance of successfully rooting out the Haqqani network would not be worth the intense diplomatic blowback from Pakistan that inevitably would ensue.
The latest round of discussions came after the June 1 car bombing of Forward Operating Base Salerno in eastern Afghanistan, according to three current and two former US officials who were briefed on the discussions.  The officials told the AP that recent discussions have included Gen John Allen, the senior US commander in Afghanistan, as well as top CIA and special operations officials.
Officials say options that have been prepared for President Barack Obama's review included raids that could be carried out by US special operations forces together with Afghan commandos, ranging from air assaults that drop raiders deep inside the tribal areas to hit top leaders to shorter dashes only a few miles into Pakistan territory.
Allen's spokesman, Navy Cmdr Brook DeWalt, said Allen "has not and does not intend to push for a cross-border operation."
Meanwhile, Foreign Ministry spokesperson Moazzam Ali Khan rejected the assertion, saying Pakistan never allowed any 'terrorist sanctuary on its soil,' and that the country will not permit foreign forces to conduct any operation inside the country.
Panetta rules out apology
As the deadlock between Pakistan and the US over reopening of Nato supply routes lingers on, Defence Secretary Leon Panetta all but ruled out an apology for Pakistan.
Panetta, in an interview with Reuters on Thursday, suggested that past expressions of regret and condolences were enough. Asked whether he would oppose any further apology, Panetta said: "We've made clear what our position is, and I think it's time to move on. If we keep going back to the past … we'll never get anywhere," he said.
Harassing diplomats
However, the apology is not the only stumbling bloc – the latest back-to-back statements by senior US officials against Pakistan may also complicate the matter, a Pakistani official said.
The State Department on Friday said that US diplomats working in Pakistan face increasing harassment allegedly by the country's security agencies.
The foreign ministry, in a statement, rejected allegations of harassment of US diplomats. "All foreign diplomats in Pakistan … are extended full courtesies and privileges in accordance with the Vienna Conventions … the same are also extended to duly accredited US diplomats and consular representatives in Pakistan," the statement said.
Backdoor negotiations
Meanwhile, efforts to reset troubled ties between Islamabad and Washington are still on. The American embassy in Islamabad confirmed that the US Department of the Treasury's Undersecretary for Terrorism and Financial Intelligence David Cohen met with Pakistani officials during the past few days.
Cohen discussed the importance of ensuring that UN-designated terrorist groups are unable to raise funds and move them through the Pakistani financial sector, US embassy spokesperson Mark Stroh said.
With additional input from Reuters.
Published In The Express Tribune, June 23rd, 2012.

via, thenewstribe
Advertisement
Daily Urdu Columns, News, from Famous Pakistani Urdu Newspapers. Jobs, Admissions, Scholarships, SMS, Past Papers, Wallpapers and Much More.